I don't know how many times I've looked for a Mother's Day gift guide full of cool Mother's Day gifts from daughters. It was so easy when I was a kid–paint something in class, have the teacher wrap it up to look nice, boom, done. Some years, I'm lucky and try out a makeup product I know my mom will love too, so I can just pick another one up for her. This year, I'm searching for the perfect gift (I haven't been experimenting with too many new products lately) and I'm going to share my findings here. 
This post includes affiliate links, which means if you click on one and make a purchase, I may receive a small commission at no extra cost to you. Photo credit (featured image and image directly below): IvoryMix.com
Quick Mother's Day Gift Guide from Daughters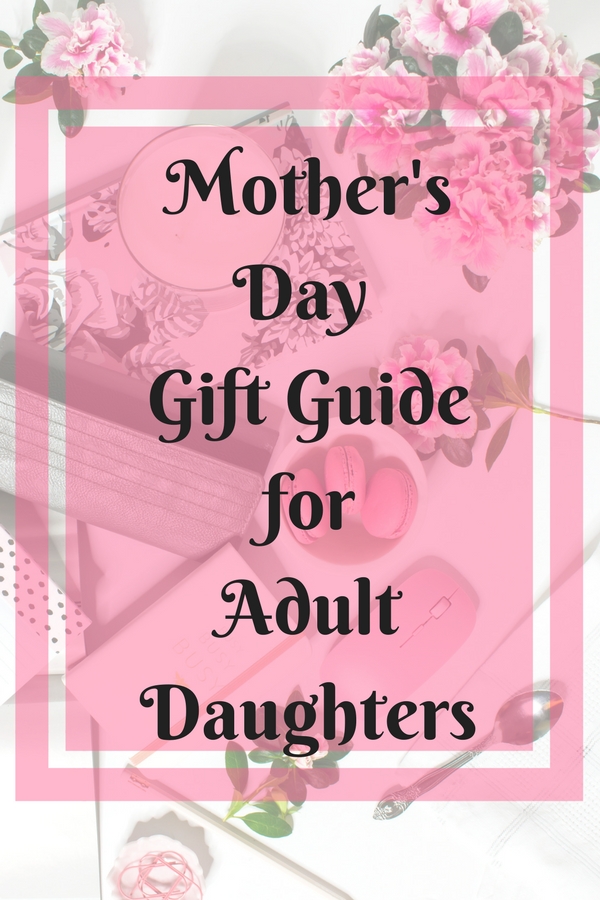 Some moms are no-frills and want practical things while others love everything beauty and fashion. Check these cool Mother's Day gifts out and see if your mom might like something on the list.
A FabFitFun Box or Four
FabFitFun is one of my favorite subscription boxes. You get about $200.00+ worth of stuff for $49.99. I got a blanket scarf in one of the boxes one year and it's still my favorite scarf to this day. It's soft and warm. Each season, they come out with a new box full of goodies. There are beauty products, fashion items, home decor items (I love when they include candles), fitness stuff, coupons, and more. One box is $49.99 but you can do an annual subscription for her for $179.99. You save 10% if you're a new member, too. 
TULA Skincare Products
I was all set to recommend the Discovery Kit I blogged about earlier, but TULA was on it and recommended something that might be even better: the R + R Kit. If you don't think your mom's looking for a brand new skincare regimen, you could get her this set to pamper herself with. This has a Purifying Cleanser, Aqua Infusion Oil-Free Gel Cream, Kefir Ultimate Recovery Mask, and two Dual-Phase Skin Reviving Treatment Pads. It's $80.00.
Antique Candle Works Candles
I have been intrigued by the soy candles with a vintage feel from Antique Candle Works since I first came across them a couple of months ago. Their best-selling scents are Momma's Kitchen and Clean Cotton, but I have really been wanting to check out the Lavender and Sweet Lemon scents, personally. You can get a discount code for signing up for their newsletter, and they're happy to send the candle on your behalf if you live too far away from your mom to give it to her in person. Prices vary by size.
A New Journal

The "She Is Clothed in Strength and Dignity" journal on Amazon has a beautiful turquoise flexcover. It's not real leather, but it looks like it. This would make a good gift for a mom who loves to write or needs the opportunity (and reminder or encouragement) each day to sit down and clear her mind. You could even add a gorgeous set of rose gold pens if you have a little extra room in the budget. I thought this set of six pens was pretty.
A New (PRETTY!) Set of Knives
This is one of my husband's favorite gifts to give. It's practical, but a new set of sharp knives can be safer than the knives she's using, if they're dull.
 Normally, I'd say not to give anyone a set of knives for Mother's Day because that's akin to a man giving his wife a new vacuum cleaner for Valentine's Day or Christmas, but these turquoise Pioneer Woman knives are so pretty I'm going to add them to my own list (in case I'm asked). I still wouldn't recommend this gift for just anyone, but if she likes to cook, loves turquoise, and prefers practical gifts, it might be perfect.
Mother-Daughter Necklace
Mother's Day gifts from adult daughters can still be sweet, sentimental, and jewelry-related. Don't think those days are long-gone just because you've grown up. This sterling silver mother-daughter necklace is a subtle nod at the unbreakable bond between a mother and daughter. It'll go with anything, too. 
Wood Framed Signs
I love so many of the signs at Smallwoods, I had a hard time deciding which one to recommend for moms here. I ended up settling on a simple and sweet one that just says "Home." The "home" sign will work for just about any mom, but be sure to poke around once you're there because there are tons of good ones.
Perfume
Perfume is a personal choice, so purchasing a full bottle of anything might not be the best choice. However, Sephora has a Deluxe Sampler Set with ten different samples and a gift certificate to redeem a bottle of whichever one ends up being her favorite. Bottle sizes will differ based on the perfume. The only possible issue with this one is the fact that she'll need to have access to a Sephora store. You can't redeem the voucher through Sephora.com. 
What do you think you'll give your mom for Mother's Day? If you are a mom, what would you love to receive?